This week has been steady. Got Albert & myrtle almost finished (line-art wise), so that strip 'should' be delivered soon.
I've had some nice strips sorted for Lost Property 03, so I'm pleased to see work beginning to trickle in for that.
FutureQuake garnered a pair of mentions in the current Comics International, which I'll post here, and one of which raises an interesting question: What
is
the best format for presenting comics on t'internet? We currently have pdf's of 1-3 on the
FutureQuake
website, with 4 to follow this summer. I can just sort another pdf, but is it the right thing to do?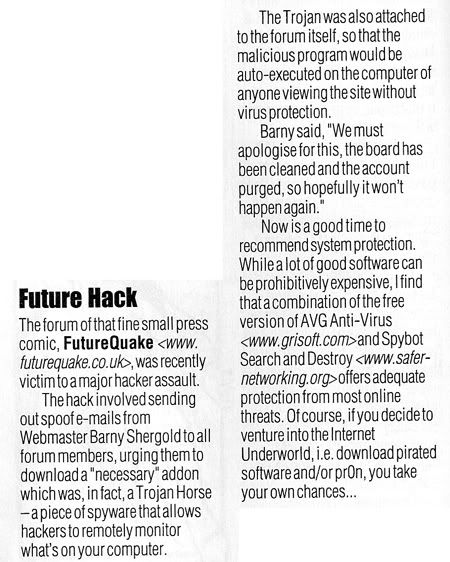 I've had to replace the home printer and scanner this week, so I bought a lovely new HP printer/scanner from PC world. The quality of the scans is markedly up on my previous machine so I'm well chuffed.
Dave