This week: Due to the launching of the second issue of Lost Property, I can now present some not before seen Jon & Gorath. These include a colour version of a strip that I could only print Greyscale.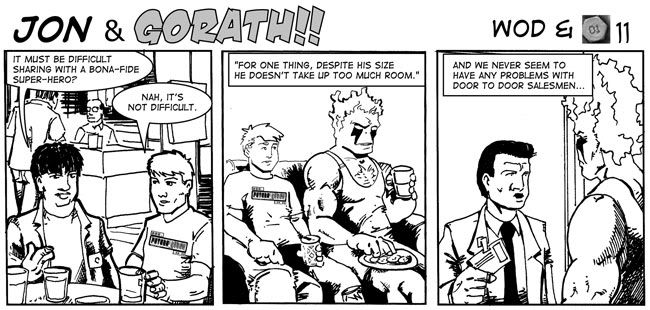 FutureQuake and MangaQuake both did respectably over the weekend in Brighton, with FQ selling slightly better. A grand time was had by all, and the experience has taught me that next time FQP should really have a table for itself.
A big hello to all the folks to came and collected their comp copies of the comic, it was great to meet so many of you all.
Mini-bolt proved he is the unquestioned king of the sketch yet again, by actually getting paid to get sketches.
Lost Property itself did very well. I now have a brand new 512 meg flash drive thanks to decent sales, though I have had to spend almost the same amount on posting comps out.
The weekend was great for meeting up with folk I've not seen for ages, and even getting the chance to have a decent face to face meeting with the other editors for FQP.
D